18 Oct 2021
Interview with Sian Sutherland, A Plastic Planet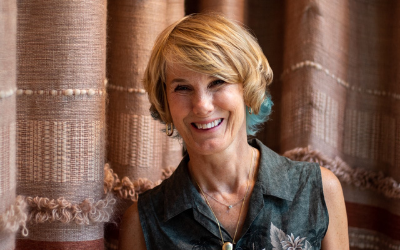 We reached out to Sian Sutherland, co-founder of A Plastic Planet to talk about how the COVID-19 pandemic has caused a rising use in plastic particularly in the hospitality industry. She also discusses some of the innovative collaborations she has seen that have been creating solutions that put people and the planet first.
Hi Sian! Thanks for joining us. Please could you introduce yourself and give a little insight into your background and experience?
Absolutely! I'm co-founder of A Plastic Planet, an international campaign organisation with one simple goal - to ignite and inspire the world to turn off the plastic tap.
But in some ways, I am also a highly unlikely eco-warrior. My background is varied. I'm a serial entrepreneur having set up my first business at 25 (a Michelin star restaurant in Soho), founding a packaging design agency specialising in drink and beauty, and most recently co-founding a skincare brand that opened up a new niche in a very crowded space, pregnancy skincare.. So you can imagine, I am no plastic saint! It was upon exiting that business after running it for 11 years and opening up 14 countries that I was advising the board of Plastic Oceans Foundation on the launch of their new documentary – that was my plastic epiphany. The more I found out I knew I had to do something to help 'turn off the plastic tap'. Although it seems somewhat random, every ounce of experience in my various businesses has really built me for what I do now at A Plastic Planet. Being an entrepreneur also means I am passionate about the power of business to impact change at speed and at scale – which is why we are so pro-business and solutions focused in everything we do.
Covid19 has developed many knock-on problems, one of which is the rising use of plastic. Where have you seen a growing use of plastic and plastic waste across the hospitality and food & drink retail sectors over the past few months?
Valid health concerns have meant our throw-away culture has exploded. For a while we all went backwards. Coffee shops stopped accepting reusable mugs. The use of plastic cutlery and cups has gone through the roof. The PPE we're told to wear in shops and cafes is all adding to the estimated 129 billion face masks and 65 billion gloves used every month. If we stitched together every mask already produced, and those projected to be produced, we'd be able to cover the entire landmass of Switzerland. Just one year – which now seems a highly credible time span – would result in 3,000 TRILLION plastic face masks being thrown away if we all adopt them.
But instead of moaning about the problem, we decided to demonstrate that we can protect ourselves AND our planet. So we co-created plastic free PPE ReelShieldFlips, wood pulp derived lightweight visors. So, if you have to have something single use, then these can actually be recycled in the paper waste stream.