21 Sep 2023
Egg Soldiers shares three major food development trends for Halloween 2024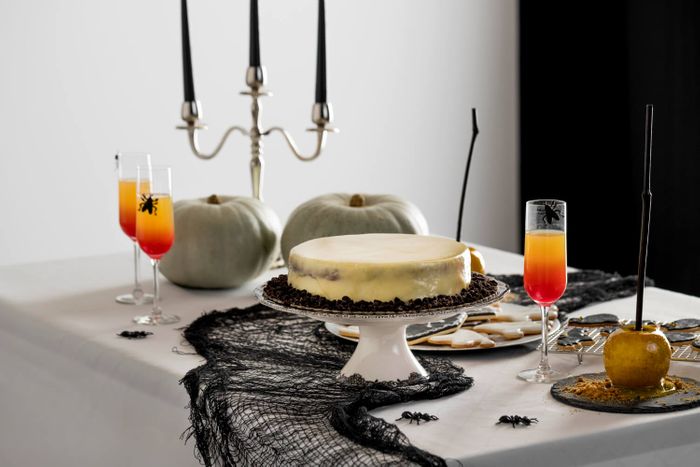 Insights Lab by Egg Soldiers tackles early-stage product ideation for Halloween 2024, highlighting flavour riffs from Southeast Asia, next-level edible cocktail garnishes, and Day of the Dead specials as evolving hot spots.
While the ongoing cost-of-living crisis might well be scary enough, Halloween 2023 will provide a much-needed dose of escapism for many UK consumers, with both retail and foodservice operators primed to unleash myriad spooky specials for the season.

Yes, there are still a few months to go before October hits, but there can be no rest for food development teams up and down the land, with early-stage inspiration for Halloween 2024 already well under way.

Here at Insights Lab, we're constantly analysing movements in global food & drink, evolving consumer motivations, and the trajectory of key macro trends to stay years ahead of the game, delivering concise and compelling food intelligence to inspire F&B teams and drive innovation.

Due to popular demand, our specialists are now examining potential hot-spots for seasonal innovation in 2024, with our development chef vantage point and food trend expertise allowing us to cut through the fluff and provide direction for clients both big and small.

And, to give you a snapshot into our thinking; here are three food innovation thought-starters for Halloween 2024, with flavour riffs from Southeast Asia, next-level edible cocktail garnishes, and Day of the Dead season extenders all on the menu.
Southeast Asian Flair
Southeast Asian cuisines have been notably broadening in the UK for a few years now, led by the likes of Thai, Vietnamese, Malaysian and Filipino.

The rise (and rise) of street food in the UK has only increased consumer awareness as to the possibilities with global food flavours (and new fusion genres), with Halloween baked goods an emerging hot spot for innovators delivering colourful Southeast Asian riffs on seasonal classics.

Take Philadelphia's Okie Dokie Doughnuts and its creative range of Halloween-themed options (pictured).

Offered last year, its four-strong range included the Frank'n Slime (top left), which had a vegan pandan cake base, a green pandan and black chocolate glaze, and black sprinkles.

Then there was the Yummy Mummy (top right), which had a Vietnamese magenta cake base with Lá Cẩm - a Vietnamese plant-based purple colouring - topped with a coconut hibiscus glaze and coconut flakes.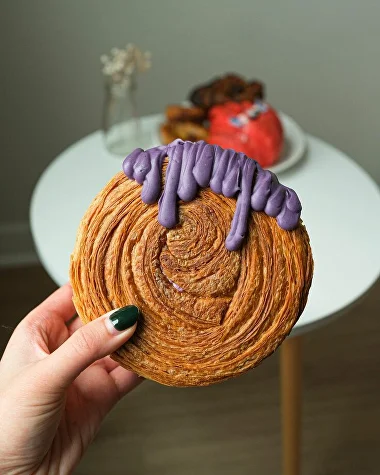 Image: @toimoibakery
Both striking and mysterious from a food perspective; purple is an ideal colour to experiment with for Halloween, with the Filipino root vegetable, ube, a Southeast Asian star-in-the-making.

Ube not only delivers a strikingly purple hue, but also nutty sweet flavours, with global bakery innovators increasingly harnessing the versatile tuber to deliver eye-catching results.

For example, Toimoi Bakery (US, pictured) offers an Ube White Chocolate Supreme Croissant; Baked Dessert Bar (US) offers an Ube Leche Flan Cupcake; and Light on the Sugar Bakery (US) offers an Ube Cream Puff - with the latter renamed the Witches Puff last Halloween.

Both ube and the green-hued pandan, which delivers a floral, vanilla-like flavour, should be ones-to-watch for developers in this space, with mainstream UK awareness primed to rise during Halloween 2023.
Garishly edible cocktail garnishes
During Halloween, mixologists can really ramp up the theatrics to draw in the crowds. As such, the creativity bar is set pretty high for seasonal cocktails, with sensory elevating smoke infusions and startling colours just the tip of the iceberg.

Innovators are now turning to next-level garnishes to really stand out, not just for seasonal specials, but across core menus, with an increasing number of US cocktail bars dabbling with creatively edible garnishes designed to elevate the entire drinking experience.

For Halloween 2023, many cocktail makers will continue to push boundaries with garish garnishes, eschewing inedible additions to minimise waste while increasing value perceptions, delivering on novelty, and broadening the overall sensory experience.

Think edible 'body parts' slowly dissolving in bubbling cocktail concoctions; elaborate 'mushroom' garnishes as part of psychedelic-themed creations; mouth-numbing Sichuan peppercorns delivering tongue-tingling sensations from cocktail glass rims; and edible insects causing a right stir.

It's fair to say the bar will once again be raised for Halloween 2024. Time to think beyond the lychee eyeball.
Discovering Day of the Dead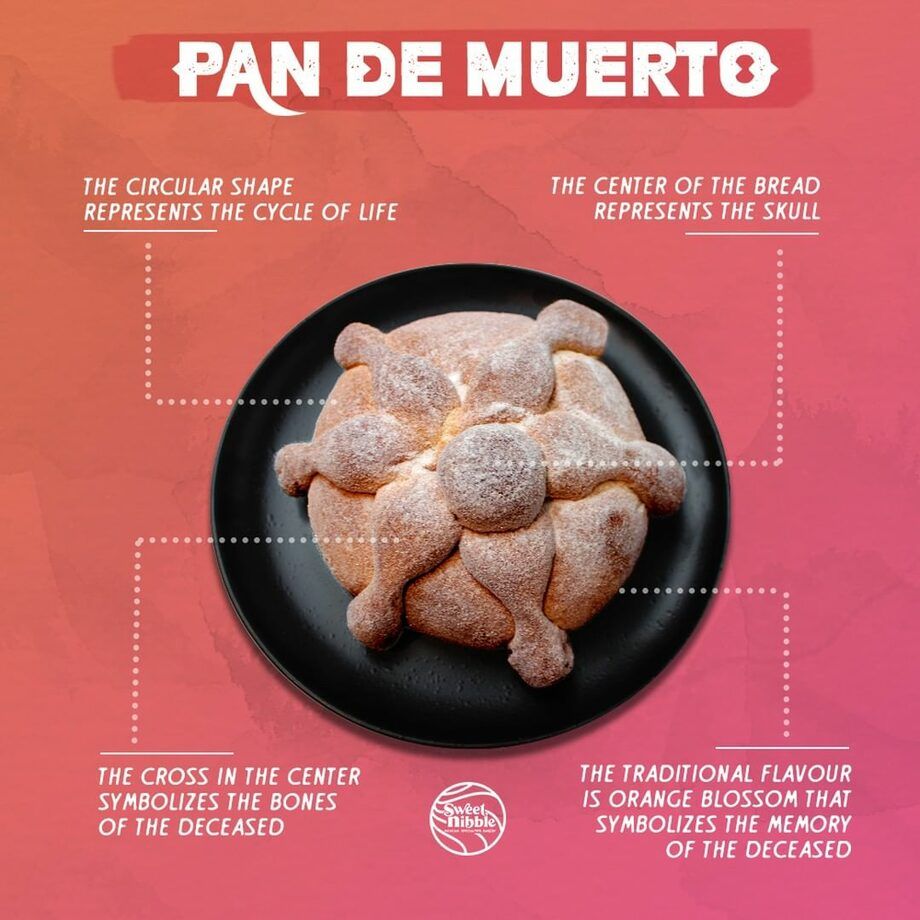 Image: @sweetnibbleuk
For the past few years, the annual Día de los Muertos (Day of the Dead) celebration has been attracting interest far beyond its Mexican roots, opening up new seasonal opportunities with a number of traditional options.

Falling on November 2nd this year; Day of the Dead specials allow foodservice operators to 'extend' the Halloween season with festival-inspired offerings, such as pan de muerto (bread of the dead), and tamales – a traditional Mexican street food and Día de los Muertos mainstay.

Beverages such as Atole (a warming corn, cinnamon, and vanilla drink), and Horchata (a sweet, white rice-based drink) also come into play around Day of the Dead, with cocktail bars regularly offering limited-edition showstoppers with a range of Mexican spirits.

Day of the Dead will once again be on the agenda for many UK operators this year, with regional pan de muertos (or even filled versions) for bakeries; Mexican hot chocolate or Champurrado (a chocolate version of atole) for coffee operators and cafés; and limited-edition tamales as grab-and-go specials just three potential innovation areas for 2024 product development.
Insights Lab by Egg Soldiers offers a suite of bespoke services designed to inspire NPD teams and drive innovation for UK food businesses, with its insight specialists regularly producing free deep dives and multiple food trends newsletters from its website. To find out more, download their free whitepaper: 'UK Hospitality Food & Drink Trends To Watch 2023/24'.