21 Mar 2022
IFE Manufacturing launches for the end-to-end food & drink production sector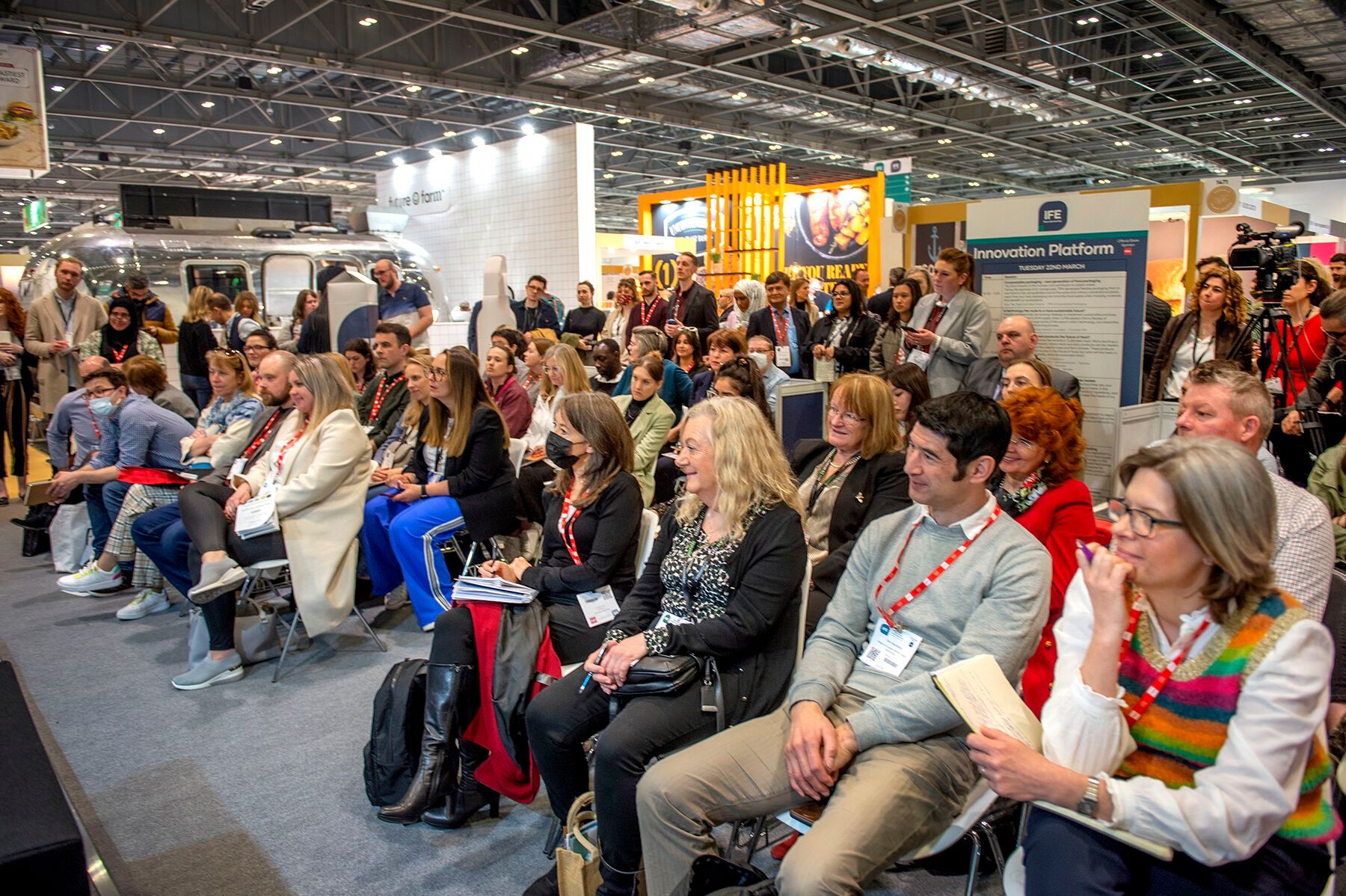 Food & drink professionals descended on ExCeL London on Day One of IFE Manufacturing to learn about the latest trends and topics in food & drink production and meet with suppliers across packing, manufacturing, technology and ingredients.
Taking place alongside IFE, International Food & Drink Event, The London Produce Show and Hotel, restaurant & Catering (HRC), suppliers at IFE Manufacturing were perfectly placed to meet with a wide of buyers interested in learning about supply chain products and the latest new developments in the sector.
On the show's Innovation Platform, Will Cowling of FMCG Gurus kicked off the three-day seminar programme with a deep dive into the packaging trends for 2022 and beyond.
He commented: "Consumer attitudes towards packaging have become more complex and considered over the last eighteen months, as the role of packaging within the food and drink industry has been re-evaluated.
"Indeed, concerns about the impact that packaging has on the environment remain strong, however, at the same time, a greater emphasis on product safety along the supply chain means that more favourable perceptions towards packaging are occurring – something that is directly influencing purchasing."
Show partner the British Contract Manufacturers & Packers Association (BCMPA) sponsored two not-to-be-missed sessions focussing on new product development. The first examined early-stage NPD with panellists Susan Arkley, Freelance consultant and lecturer, Nick Henson, Food Product Development Consultant, Richard Werran Regional Director, Food and Retail Sector at BSI and Ruth Dolby of Food Science Fusion.
The second NPD session took a close look at the process of working with third party contract manufacturers with panellists Emma Verkaik, Membership and Marketing Director at the BCMPA, Cyril Guillemart, Business Development Manager at The Alexir Partnership, Olly Reynalds, Managing Director of Sauce Shed and Nick Henson, Food Product Development Consultant.
This was followed by an insightful session on sustainable packaging, with an all-star panel comprised of David Harding-Brown, Founder Partner of The Packaging Collective, Andy Sweetman, Sales and Marketing Director at Futamura, Hugh Lewis, Head of Proposition Strategy at Gousto and James Wallace, UK Sales Manager at BioPak UK.
Day One concluded with a drinks and networking session for the food & drinks businesses at the show, in partnership with Official Show Sponsor Infor, which was demonstrating its modern, cloud-based ERP CloudSuite Food & Beverage platform at the show, making it easier for F&B companies to innovate, increase productivity, ensure food safety, implement transparency, and increase sustainability.
Chetan Chauhan, Business Development Manager at Thermal Printer Support described the experience of exhibiting at the show, saying: "We have found the event really useful, it's the first time we've done it and we've booked in again for next year. It's a perfect show for TPS and it was great doing it in collaboration with TSC Printronix Auto ID. There have been so many different people from different areas of our industry. We were niche here, because no one else is doing what we're doing, so that has made it a worthwhile show for us, and we can't wait for next year. We've had so much fun and met loads of great people."
Sessions on the Innovation Platform will soon be available on digital platform IFE Connects.