17 Apr 2023
IFE Manufacturing returns bigger and better for 2023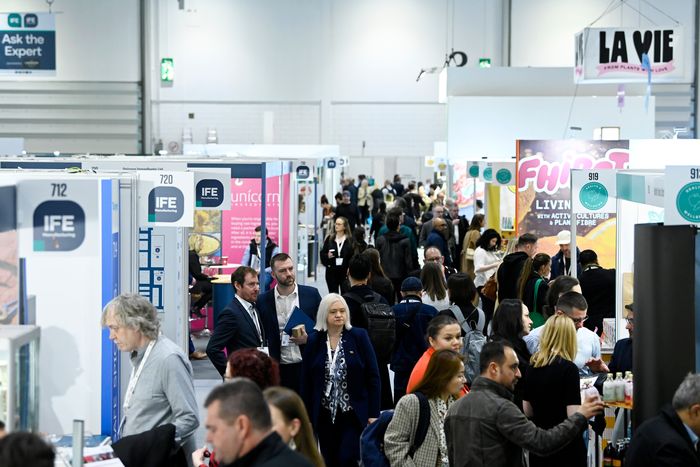 IFE Manufacturing, the trade event for the end-to-end food production industry, returned to ExCeL London alongside IFE, International Food & Drink Event and Hotel, Restaurant & Catering (HRC) for on 20-22 March for three packed days of learning, networking and streamlined product sourcing.
Collectively, the events welcomed more than 27,000 leading professionals from across the industry and showcased a range of leading suppliers and innovative products.
Visitor to the show Rafael Espesani, Brand Lead at OREO, commented: "It was great to be back at IFE and IFE Manufacturing for another year as a visitor. It was a very insightful and enjoyable experience seeing the latest trends in our industry and getting a real taste for the future of food and beverage.
"Also, I really enjoy how the event enables me to meet with old colleagues from other companies, as well as creating new, meaningful connections with talented professionals with diverse experience. Looking forward to going back again in 2024!"
Key trends and insights for the food & drink sector
This year's event included two stages – the Trends & Innovation Platform and the Sustainability Stage, sponsored by Elopak – packed with insights for food & drink brands to grow their business.
The Trends & Innovation Platform saw a wide range of sessions focussing on the latest innovations in food & drink, with presentations from the British Frozen Food Federation and IGD on 2023 frozen food trends, from thefoodpeople on emerging food technologies and from Kantar examining the rise of discount retailers.
The stage also featured an insightful discussion around managing allergens featuring Bertrand Emond of Campden BRI, Nicki Clowes of the Free From Awards, Julianne Ponan MBE of Creative Nature, Anita Kinsey of Pret a Manger and Hari Ghotra of Virgin Atlantic.
Ghotra commented: "I'm here because I love experiencing all the food and innovation that's around, from packaging to vegan offerings to all the lovely drinks. We've also been having a chat about allergens, talking with amazing panellists highlighting some of the issues we face in the industry. A fabulous day; can't wait for next year."
Ian Downes, Director at Start Licensing and panellist on the session, 'Where to begin with a brand extension? Unlocking the profitability of powerful partnerships', added: "I really enjoyed being part of the brand licensing panel at IFE Manufacturing - I felt there was a really good discussion, lots of interesting debate and some intriguing questions from the audience. I felt very encouraged by the response to the topic and it is great to see licensing on the agenda."
The Sustainability Stage featured a wide range of content around ESG, from sustainable packaging to the skills needed for a low carbon future to building resiliency into our food systems, plus a full day of content curated by the Food & Drink Federation.
Luke Murphy, Head of Regulatory – Commercial at Leatherhead Food Research, commented: "It was a privilege to speak on 'Harmonising recycling logos across Europe' as part of the programme on the new Sustainability Stage. The conference programme was exceptionally well organised and very well attended too; we are looking forward to attending again in 2024!"
Connecting suppliers with food & drink brands
Exhibitors at IFE Manufacturing hailed the success of the show, with David Howard, Sales Agent, UK and Ireland at Lallemand Bio-Ingredients, commenting: "As more and more consumers are looking for natural and flexitarian solutions, IFE Manufacturing provided an excellent platform for Lallemand to demonstrate just how relevant our wide range of yeast products is suited for these increasing markets."
Joshua Webster, Marketing Executive at glass bottle and jar manufacturer Croxsons, added: "Having first exhibited in 2009 we were proud to be part of another fantastic event showcasing the best of the food and drinks industry. The team were able to meet with new and familiar faces and enjoyed the conversations around innovation within the packaging industry. We look forward to seeing everyone next year."
IFE Manufacturing will return to ExCeL London alongside IFE, International Food & Drink Event and Hotel, Restaurant & Catering (HRC) on 25-27 March 2024. To keep up to date with the latest news, interviews and industry trends, subscribe to our newsletter.