03 Oct 2023
International inspiration: Inside FreeWater's innovative business model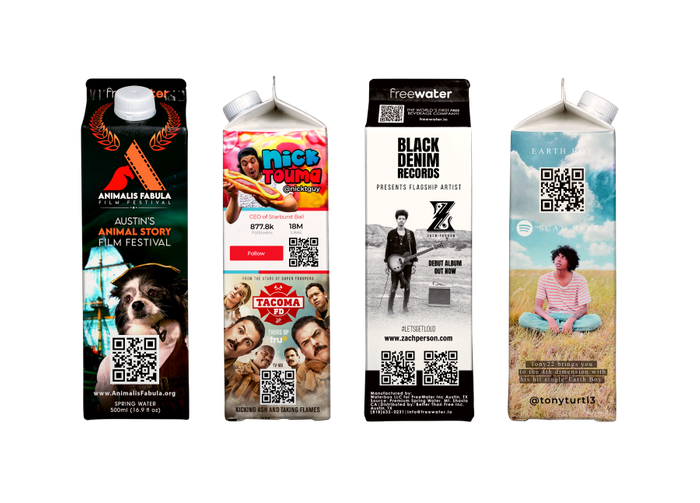 IFE Manufacturing talks to innovative US brand, and 'the world's first free beverage company' FreeWater, a startup challenging standard economic models and investing in a new way of doing business.
Where did the idea for FreeWater come from, and can you explain the business model to our audience?
Our founder first got the inspiration for FreeWater while volunteering with refugees in Europe. Nearly one in four had expressed that they were forced to leave their country because they didn't have access to safe drinking water or food. He wanted to create an out of the box solution to finance the end of the global water crisis and famine without a penny of tax dollars.
FreeWater is a free beverage company and our spring water in aluminum bottles and paper cartons is free because the packaging is ad space. It's a new type of media and e-commerce platform that at scale strives to make FreeWater more profitable than selling it today. Our secret sauce are new revenue models, modalities of manufacturing and distribution that aren't currently possible when goods are sold for a price.
Most importantly, ten cents per beverage are donated to charity to fight the global water crisis. When only 10% of the USA consumes one FreeWater daily we will donate more than a billion dollars to charity annually.
FreeWater is just the beginning of free supermarkets and each free product will donate to a different charitable cause.
What kind of customers have you had to date, and what has been their feedback?
We have had a number of different types of advertisers ranging from small businesses to NBC and their top tv shows, to nonprofit organizations that help the homeless, events and more. FreeWater is a blank canvas and you can connect QR codes to connect anything on the internet which includes augmented reality. Advertisers are excited to use the advertising medium and each week people come up with new and innovative ways to "leverage the beverage."
How does FreeWater approach the question of sustainability?
We never use plastic bottles and are currently off setting our carbon footprint to ensure that we are carbon negative. Future manufacturing and distribution models will enable us to eliminate 90% of the current supply chain. Free supermarkets have the ability to reduce USA food waste by a third because 33% of all groceries are tossed in the trash bin because they are too expensive and expire before they can be sold.
What are your plans for future growth and expansion?
Currently, the majority of our business is B2B which means we ship it directly to the advertiser and they handle the distribution. We are about to launch D2C which means anyone can just pay for the shipping of 12 and 24 packs and the water is free + charity. We won't add a penny to the shipping and once we have FreeWater going to your home we can add one product at a time until it evolves into a free supermarket. Eventually, we will roll out new fulfillment models that will enable us to offer free delivery too.
Our first free vending machine prototype will be available for testing / light use in the downtown Austin area before the end of the year.
Q1 / 24 we are aiming to launch the first version of freegrocerystore.com which will operate as the "free Amazon". All types of distributors of free and negatively priced goods and services will be able to list on our platform and we won't take commission from goods sold because they won't have a price!
What is FreeWater's approach to social media and engaging with consumer audiences?
We use social media to educate the world about this new industry.
If someone physically receives a bottle of FreeWater they are instantly sold on a future where they have access to all types of free products and services ranging from water, food, smart devices, transportation, energy, travel and more.
If they see a video with someone else receiving a FreeWater they are equally as excited for the future we are creating… A 10,000,000 view video has the network effect of a typical "for sale" brand selling ten million waters because our water is free.
Find out more about FreeWater at freewater.io.