27 Oct 2022
Majority of Quaker Oats portfolio to be Non-HFSS following extensive reformulation and NPD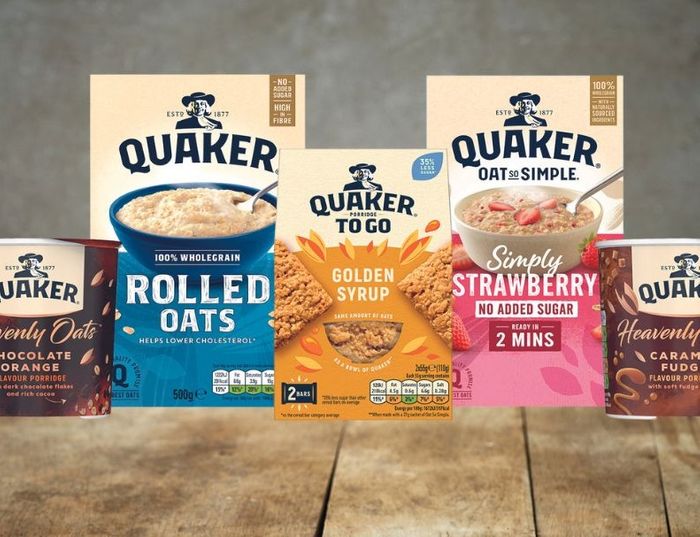 Quaker has announced that the vast majority of its entire range will be non-HFSS starting from early November.

The move to non-HFSS which includes all of Quaker's hot cereals and Porridge To Go ranges, is the result of extensive reformulation and new product development.

In the last few months, Quaker has launched four non-HFSS ranges to drive innovation in the cereals category. This includes two new flavours of its Heavenly Oats pots – Chocolate Orange and Caramel Fudge – and the new Quaker Oats So Simple Simply range, which offers shoppers a 100% wholegrain porridge option with no added sugar.

The business has transformed its portfolio to cater for consumers looking for healthier choices without compromising on taste.
Corrine Chant, Quaker Marketing Director at Pepsico UK & Ireland, comments: "Breakfast continues to play a crucial role in consumers' eating habits as the largest meal occasion in the UK , with over 90% of people eating it every day . We know that consumers are increasingly looking for healthier breakfast options that also deliver on flavour. I am confident consumers will enjoy our non-HFSS ranges that leave them feeling fuelled and nourished for the day ahead."
The announcement follows PepsiCo's ambition for half its snack sales to come from non-HFSS products or portions of 100 kcal or less by 2025. Quaker's transformation journey also forms part of PepsiCo Positive, a strategic end-to-end transformation plan which includes its ambition and dedication to inspiring consumers to make positive choices.