29 Sep 2022
Nestlé launches next generation of meat alternatives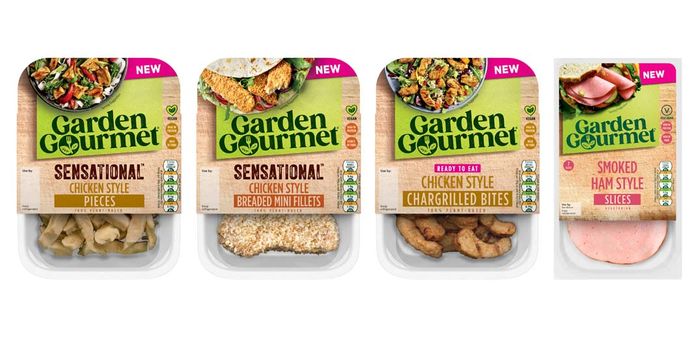 Garden Gourmet, Nestlé's next generation of meat alternatives, is introducing four delicious and versatile meat substitutes for food lovers looking to cut down on meat but not wanting to compromise on taste.  
As with all Garden Gourmet products, the new range has been carefully developed by chefs and nutritionists and consists of vegetarian smoked ham style slices and a range of vegan chicken style products, including Chicken Style Pieces, Chicken Style Breaded Mini Fillets, and Chicken Style Chargrilled Bites.  
Garden Gourmet Vegetarian Smoked Ham Style Slices are a great choice for a sandwich or salad at lunchtime for those looking for a delicious and nutritious* meat-free alternative. They are high in protein and high in fibre.   
Chicken Style Chargrilled Bites are ready to eat making it a great quick vegan lunch ingredient. They have a delicious lightly smoky flavour and are great for topping salads or in a wrap or bagel. They are high in protein and high in fibre.  
Vegan Chicken Style Pieces have a delicious and tender chicken-like texture and are great for a variety of favourite dishes including curries, stir-fries, pasta dishes, and salads. They are also high in protein and a great source of fibre.   
Chicken Style Breaded Mini Fillets have a succulent chicken-like texture lightly coated with panko-style breadcrumbs. They are quick to cook up and taste great in a toasted wrap with fresh salad or with katsu sauce, rice, and stir-fry veg.  
Laura Mack, Garden Gourmet Senior Brand Manager said: "At Garden Gourmet we believe that giving meat-free eating a go should be super easy and simply delicious, so we are delighted to be able to bring to market our fantastic range of meat alternative deli and chicken style products.   
"We are constantly striving to provide our fans with delicious vegan and vegetarian alternatives and these products are great for food lovers looking for more meat-free poultry options and those who want to include more vegan and vegetarian food at lunchtime."  
Not only are the Garden Gourmet products delicious and can be easily switched into everyday meals but they are also good for you.  
The new products are available at selected Asda, Sainsbury's, and Morrisons joining the existing Sensational Burger and Sensational Sausage.   
In addition to supermarkets, Garden Gourmet is also available to caterers and the food service industry through Nestlé Professional. Garden Gourmet Sensational Burger and Garden Gourmet Cumberland Sausage are served at 800 Premier Inn hotels and their 400 associated Whitbread restaurants on both their breakfast menu and as a plant-based alternative to the sausage & mash in selected restaurants.     
*Protein contributes to the maintenance of muscle mass, as part of a healthy diet and lifestyle. Recyclable Tray & Sleeve (Film not yet recyclable). 
To keep up to date with all the latest industry news and food & drink NPD, subscribe to the IFE Manufacturing newsletter.