30 Aug 2022
Ping Pong Dim Sum launches 'Steam at Home' range with the help of Newton Print & Packaging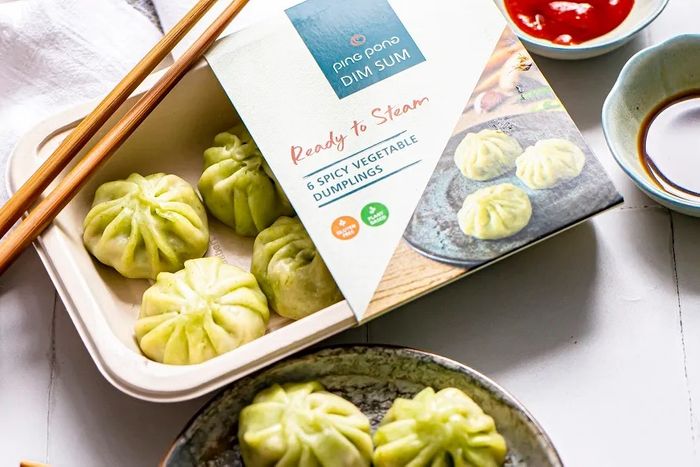 The Ping Pong Dim Sum group of restaurants that has recently expanded into producing 'ready to steam' at home meals has picked a Devon-based printed packaging specialist to help produce its packaging.
Ping Pong Dim Sum approached Newton Print & Packaging in Newton Abbot for help with a pre-glued printed sleeve to fit a film sealed pulp tray for its har gau and vegetable dumplings products.
Art Sagiryan, CEO at Ping Pong Dim Sum, which is has seven restaurants across London in Soho, St Paul's, Southbank, Covent Garden, St Katharine Docks, Westfield Shepherds Bush and St Christopher's Place, said: "In 2020, during the Covid lockdown, we wanted a new challenge and we decided to venture into producing delicious, ready to steam Dim Sum, that people could enjoy at home, while our restaurants were shut.
"We created our 'Steam at Home' boxes, which included handmade restaurant products created by our chefs and ready to cook at home. The range was extremely popular, and we continued to produce it after the restaurants reopened, and we are still selling it online on our website.
"Customers can choose between steamed, crispy or rice dishes ready to cook in few minutes on the hob, microwave or oven, with delivery within 24 hours of ordering.
"In July 2022, we relaunched with new packaging ready for the summer and to keep up with our high-quality food, we were looking for a company to produce some suitable packaging for us on a fast turnaround. It was so refreshing to work with the team at Newton Print and to get speedy replies and assistance. We are thrilled with the finished products too."
Founded in 1983, Newton Print is an approachable, friendly, forward-thinking and carbon-balanced printed packaging firm that provides a collaborative approach to client partnerships based on traditional customer relationships, married with pioneering, innovative ideas, to create successful and sustainable results.
Nathan Besley, Sales Manager at Newton Print in Newton Abbot, which specialises in assisting food and drink producers to bring their products to market on time, said: "After going through some samples of sleeves we had previously produced, the client decided to select a 500-micron one-sided board for their sleeve, with a spot gloss coating, as a glossier finish was what they were looking for.
"We then produced a couple of digitally printed mock-ups for Art to check the fit and visual appearance, and once this was confirmed and the artwork was finalised, we were able to push ahead to print."
Benefiting from its own on-site production and inhouse creative expertise, Newton Print is a packaging mentor perfectly suited to SMEs and challenger brands in the food industry. It aims to help demystify and simplify the ordering of printed packaging to allow food producers to develop, succeed and grow.
It provides print runs of anything from 1,000-300,000 with a focus on beautiful, luxury, sustainable printed food packaging, specialising in food sleeves. Its efficient and modern production facilities enable it to provide fast turnaround print-runs without the need for hefty origination and plate charges. Shorter delivery times and a low minimum order are ideally suited to the fast-changing nature of today's production environment, meaning food manufacturers can hold less stock and still benefit from cost-effective unit prices.
The hard-working, skilled team ensures its clients receive top-quality workmanship and ultra-fast delivery.
Ninety-seven per cent of its customers rate Newton Print with five stars on the independent review site Feefo for speed and exceeding expectations, while 98% have rated the team's friendliness as five-star too. Feefo has also awarded the company with a prestigious Platinum Trusted Service accreditation for five years in a row.