01 Jan 2022
Recycling: Opportunities & Barriers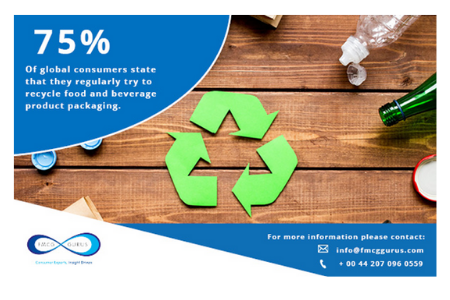 Sustainability is a major topic of concern for consumers as they become increasingly conscious about the state of the environment and whether damage done is irreversible, something that will impact on quality of life for current and future generations. As this concern grows, consumers become more conscious about different environmental issues, something that will significantly shape their attitudes towards packaging in the food and drink industry. So how can brands and manufacturers reinforce sustainable packaging claims and what initiatives do consumers want to see.
Recycling is an important topic to consumers across the globe and is a staple part to consumer actions when trying to lead a more sustainable lifestyle. FMCG Gurus consumer insights show that 75% of global consumers state that they regularly try to recycle food and beverage product packaging. One of the key reasons for this is that consumers are more concerned than ever before about environmental issues such as global warming and the threat of increased landfills. The research also highlights that 64% of global consumers believe that people not recycling has a major impact on the environment.
It must be remembered that whilst consumers are concerned about sustainability issues, it is important not to overestimate their education on the topic. This includes awareness on the recycling processes. One of the key issues consumers face when it comes to recycling is that 41% state it is too time consuming, and 33% suggest they do not know how to recycle certain products. This is a key issue for the industry as consumers do not like to dedicate time and energy on tasks that they deem complicated or do not understand – especially when they feel increasingly time scarce.
Although consumers find the process of recycling time consuming, it is a topic in which consumers are actively looking to address. When it comes to appealing packaging claims, 67% of global consumers state that it is important that product packaging is recyclable. FMCG Gurus insights also show that 32% of global consumers would be wiling to pay premium prices for recyclable packaging. This again highlights the desire to lead a more sustainable lifestyle, as consumers actively seek out new ways in which to reverse environmental issues.
Therefore, there is an opportunity for brands and manufacturers to provide new recycling initiatives which will be highly appealing to consumers. However, the issue of time and confusion must be addressed. FMCG Gurus research shows that 52% of global consumers want brands to make information about recycling simpler and easier to understand, whilst also 52% want information on how to recycle products via written instructions printed on packaging.
FMCG Gurus also shows that consumers would like to see brands and retailers offer a variety of initiatives around recycling. For example, packaging that can just be thrown into the garden or financial incentives for recycling. Overall, the research shows that consumers want either extra motivation to continue to recycle and engage in sustainable behavior, or want such processes to be made more convenient and hassle-free.
This article is based on FMCG Gurus 2021 Packaging Survey Series. For more information please contact, Info@fmcggurus.com.