09 Mar 2023
Shortlist revealed for the 2023 World Food Innovation Awards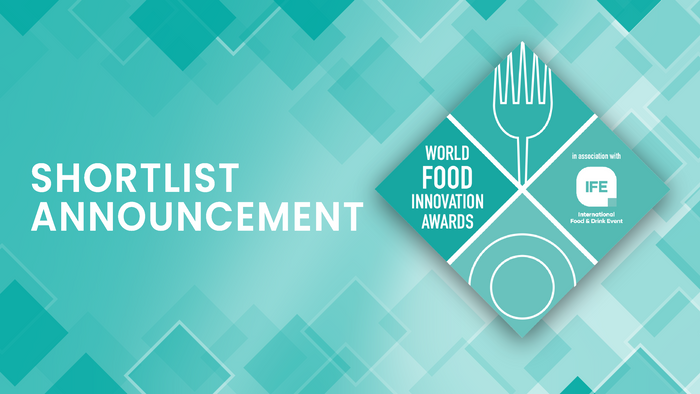 The shortlist has been announced for the 2023 World Food Innovation Awards and we couldn't be more excited!
These awards celebrate the very best companies, people and products from around the world and recognise their outstanding contribution to the food and beverage industry. We'd like to say a huge congratulations to all the hardworking brands that put their products and services forward in this year's awards.
In an era of rising expectations and increased sustainability goals, it's important to acknowledge the groundbreaking progress each finalist has achieved in making a real and meaningful difference to our global food system.
The winners of this year's World Food Innovation Awards will be announced during our special awards ceremony, which will take place at IFE 2023 at London's ExCeL on Monday 20 March.
Please find full finalist shortlist below.
Artisan product
Aldi US – Emporium Selection Hot Honey Gouda
AraBello® Ltd – Peanut Marble – it's simply magic®
Inner Mongolia Yili Industrial Group Co., Ltd – Cute Star Natural DHA Pure Milk
Inner Mongolia Yili Industrial Group Co., Ltd – Satine Active Lactoferrin Organic Pure Milk
Inner Mongolia Yili Industrial Group Co., Ltd – Yili Cute Star Lactoferrin Pure Milk
Children's/baby product
Inner Mongolia Yili Industrial Group Co., Ltd – Yili Cute Star Lactoferrin Pure Milk
For Aisha Ltd – For Aisha Oaty bar Broccoli & Apple 5x25g
Good4U – Nutri Balls Strawberry
Little Dish – Little Dish fresh kids' meals
Snack product
BiteMe Nutrition – BiteMe Protein Cookie
Daily Crunch Snacks – Daily Crunch Nashville Hot Sprouted Almonds
Franui – Franui
Grace Foods UK – Grace Exotic Chips
Issei – Issei Mochi Gummies – Mango
The Original Chicken Crackling – Chicken Crackling
Truede Limited – 6 x 30g Peng Assorted Savoury (BBQ, Sea Salt & Vinegar and Chilli Nacho Flavour) Roasted Chickpeas Snacks
Low or no product
Barry Callebaut – Second generation chocolate
Buddee – Buddee Chocolate Spread
Juicy River – Bolle Oro
Jnck Bakery – Milky Chocolate Cookie
Landbase / CHOCDAY – Dark Premium
Nanyang Polytechnic – KuMayya Sweet Potato Milk
Rice in Action – SlowCarb Rice
T-cket – Ticket Saffron Enriched Beer
Natural/organic product
Aldi US – Simply Nature Keto Dark Chocolate Coconut Clusters
Barry Callebaut – Second generation chocolate
Four Sigmatic – Four Sigmatic Think Organic Creamer
Four Sigmatic – Sweet Vanilla Organic Plant-Based Protein
RISE Brewing Co. – Salted Caramel Nitro Cold Brew Oat Milk Latte
Dairy product
Biotiful – Kefir Protein Choco-lite
Inner Mongolia Yili Industrial Group Co., Ltd – AMBROSIAL Youqier
Inner Mongolia Yili Industrial Group Co., Ltd – Cute Star Natural DHA Pure Milk
Hyproca Nutrition Co., Ltd – Kabrita YingJia Yingxin Goat Milk Formula
Strive Nutrition Corp – Strive FREEMILK, Whole & Chocolate
YILI/SHUHUA MILK – Shuhua Sugar Control Lactose-free Milk
Plant-based product
Aldi US – Simply Nature Chickpea Penne
Be Better My Friend – Be Better plant-butter
Beyond Meat – Beyond Tenders
Bravura Foods Ltd/ Free From Fellows – Free From Fellows Strawberry Vegan Mallows
Biotiful – Oat Kefir Yor-gut Cherry
Cathedral City – Cathedral City Plant Based
Dole Food Company – DOLE(r) Sheet Pan Meal Starter Kits
Extraordinary Foods / Pimp My Salad – Coconut Bacon
Forest Feast – NUTM!LK CHOCOCORN
GOE Wellness – Healthfullicious'ly – Creamy plant-based hemp drink
Impossible Foods™ – Impossible™ Spicy Chicken Nuggets Made From Plants
Issei – Issei Mochi Gummies – Mango
LoveRaw – Nutty Choc Balls
Lypid – Pork Belly
Mind Blown™ by The Plant Based Seafood Co. – Mind Blown™ Crab Cakes
MyForest Foods – MyBacon
SOAK'd OATS – High Fibre Probiotic Oat Bars
Strong Roots – Strong Roots Good Made Easy Entrees
The Vegetarian Butcher – vegan Happy Go Glucky Burger
ST MICHEL PROFESSIONNEL – Vegan madeleine
Wicked Kitchen – The Saucy Motz Pizza
Verdino Green Foods / the Unfished brand – PlantZalmon Smoked Slices
Chilled/frozen product
COCORICO ORIGINAL – COCOBAKED – BAKED CHICKEN WINGS
Franui – Franui
Inner Mongolia Yili Industrial Group Co., Ltd – Xujinhuan Cheese Flavored Ice cream
Jnck Bakery – Milky Chocolate Cookie
Meat/poultry product
COCORICO ORIGINAL – COCORICI CLASSIC
The Original Chicken Crackling – Chicken Crackling
Seafood product
Nanyang Polytechnic – Crispy Fish YT
TRATA – SalmonPocket smoked salmon fillet pieces in vegetable oil
Responsible Foods, ehf – Næra (TM) Snacks- Fish Jerky Crunch
Functional product
Damazonia Teas – Sleep Tea
Energy One – Energy One Lite
ió fibrewater – ió fibrewater Lemon & Lime
Four Sigmatic – Sweet Vanilla Organic Plant-Based Protein
FHIRST – FHIRST LIVING SODA
Jnck Bakery – Milky Chocolate Cookie
TRIP – TRIP lightly sparkling CBD infused drinks
TCI Co., Ltd. – Soba!™ Buckwheat Husk Extract
Rice in Action – NutriRice Plus
Drink innovation
ió fibrewater – ió fibrewater Lemon & Lime
Inner Mongolia Yili Industrial Group Co., Ltd – Changyi 100% Lactic Acid Bacteria Drink
FHIRST – FHIRST LIVING SODA
KISSD – KISSD WATER CUCUMBER
KISSD – KISSD WATER COCONUT
Strive Nutrition Corp – Strive FREEMILK, Whole & Chocolate
Food innovation
ACCRO – 100% plant-based burger
Aldi US – Season's Choice Breaded Buffalo Cauliflower
Barry Callebaut – Second generation chocolate
Fermenti – Fermented Fruit Bites
Little Dish – Little Dish Fresh Kids' Meals
Inner Mongolia Yili Industrial Group Co., Ltd – AMBROSIAL Youqier
Responsible Foods, ehf – Næra™ Snacks Skyr Crunch
SRSLY Low Carb – SRSLY Low Carb Pizza
THIS™ – THIS™ Isn't Streaky Bacon Rashers
Takul Halal Kitchen (Part of Stonehouse Foods Ltd) – Takul Halal Kitchen
VEGEMITE – Gluten Free VEGEMITE
Ingredient innovation
Barry Callebaut – Second generation chocolate
DSM – Vertis™ Textured Pea Canola Protein
GOE Wellness – Healthfullicious'ly – Creamy plant-based hemp drink
GNT Group – EXBERRY® Compound Red
Lypid – PhytoFat
Meeat Food Tech – MUU Fermented Fava Beans
Health innovation
BIOHM – Super Kids
Impossible Foods – Impossible™ Beef Lite Made From Plants
ió fibrewater – ió fibrewater Lemon & Lime
Jnck Bakery – Milky Chocolate Cookie
Nottingham University Hospitals NHS Trust – N-ICE Cream (Nottingham High Protein Vanilla Ice Cream, fortified with additional leucine and vitamin D)
TCI Co., Ltd. – Banana Flower Stamens Extract
Landbase / CHOCDAY – Dark Premium
Merlyn Health Foods – Omega 3,6,9 Ex
Technology innovation
Inner Mongolia Yili Industrial Group Co., Ltd – Yili Cute Star Lactoferrin Pure Milk
Lypid – Pork Belly
Haus Holdings – Döner / Shawarma Robotic Kebab Machine Cutters
THIS™ – THIS™ Isn't Streaky Bacon Rashers
YILI/SHUHUA MILK – Shuhua Sugar Control Lactose-free Milk
Marketing campaign
Dole Food Company – Dole Healthy Heroes, Assemble!
Inner Mongolia Yili Industrial Group Co., Ltd – AMBROSIAL Environmental Protection marketing campaign
Inner Mongolia Yili Industrial Group Co., Ltd – Ambrosial Regional Marketing For Rural Revitalization
Inner Mongolia Yili Industrial Group Co., Ltd – AMBROSIAL 2022 Chinese New Year 'Tiger for Chinese Style'marketing campaign
New/start-up business
AraBello® Ltd – Peanut Marble – it's simply magic®
Franui – Franui
Issei – Issei Mochi Gummies – Mango
Lime Caviar Ltd – Lime Caviar
Meeat Food Tech – Meeat Food Tech
SOAK'd OATS – High Fibre Probiotic Oat Bars
Packaging design
Alzamora Group – Oil Premium Pack
Beatson Clark – Bespoke glass packaging for BOL Power Shakes
Graphic Packaging International – KeelClip™ for Liberty Coca-Cola Beverages
Graphic Packaging International – McDonald's hexagonal salad box
Graphic Packaging International – Dogfish Head Hoppy Variety Pack Scratch'n'Sniff
Graphic Packaging International – Mars Malteser Giant Easter Egg Carton
Graphic Packaging International – Boardio™ for Perfetti Van Melle Mentos gum bottle
Graphic Packaging International – ProducePack™ Punnet tray for Smithy Mushrooms
Graphic Packaging International – Keelings Blueberry Carton
Inner Mongolia Yili Industrial Group Co., Ltd – Satine No Printing No Ink Environmental-friendly Edition
KISSD – KISSD WATER
Product Ventures – Planters Dry Roasted Peanuts
Meeat Food Tech – MUU
CSR/sustainability initiative
Brownes Dairy – Recycled Ocean Bound Plastic Yoghurt Tubs
KISSD – KISSD WATER
Meadow – Sustainability initiative
ofi (olam food ingredients) – Cocoa Agroforestry Restoration in Pará, Brazil
TCI Co., Ltd. – Establish Sustainability DNA from the Inside Out
Strong Roots – Carbon Footprint Labeling and Initiatives
Foodservice initiative
Rice in Action – Instant Flavored Rice Solution
Quorn Professionals – Carbono Cero, a delicious carbon neutral solutions
The Original Chicken Crackling – Chicken Crackling