PHOENIX 4 - Helium Leak Detectors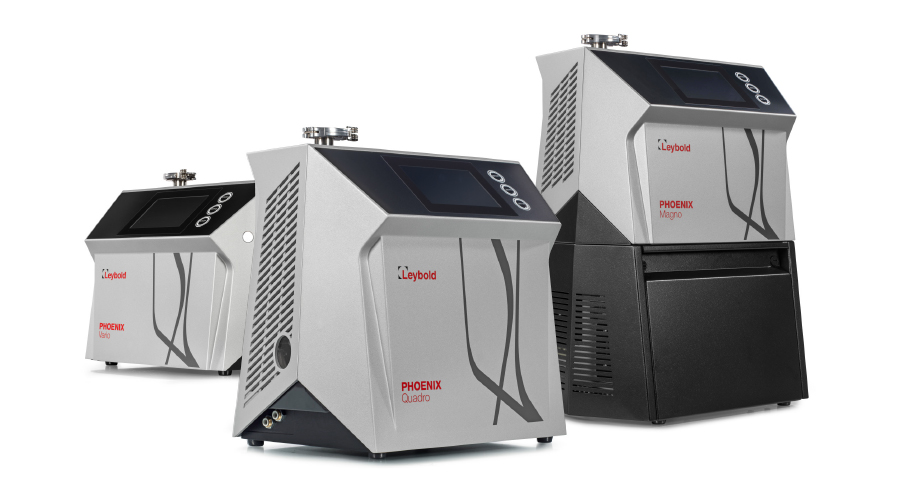 The fourth PHOENIX generation - Where precision meets speed
Often the success of any business depends on quality, and having the right tools and equipment is critical to ensuring top performance and output across R&D departments, as well as in fast-paced production and manufacturing facilities.
We also see applications becoming more specialized, processes being more demanding, yet time for analysis and testing becoming less.
When it comes to vacuum system leak detection you can rely on our PHOENIX leak detectors.
The product portfolio of the PHOENIX 4 family provides the perfect device for a variety of applications.
The PHOENIX Quadro – as a universal, portable helium leak detector - is the all-rounder in its class. For applications with larger test volumes, which require faster pump down or repeated measuring cycles from atmosphere to test pressure.
The PHOENIX Magno provides just the right high pumping speed.
PHOENIX Vario is fully flexible and compact. It knows to convince with its unique free selection of the backing pump that is to be connected.
All versions are suited for the use in vacuum as well as sniffer operation.
The PHOENIX Quadro and PHOENIX Magno are available with oil-sealed or dry-running backing pumps as well as in a variety of different voltage versions.
The PHOENIX 4 series offers all the necessary connections for accessories including the sniffer line or the partial flow system.
Furthermore, it has easily accessible USB ports and additional controlling interfaces. We offer a range of interface modules with suitable communication standards for different needs: you can choose between an I/O module, Profibus®, Profinet®, Devicenet® or Ethernet/IP.
The PHOENIX line has an improved service and maintenance concept. The filter can be changed from the outside, without removing the cover, letting you save time and focus on your measurements!
Categories
Packaging systems and machinery